---
To find a local A. A. meeting click here or, to download a printable schedule, click here
Check the "New Meetings" tab for meetings in their first 6 months (Mobile devices: Use the 3 dashes in the top, right corner, for menu)

  Donate Online Here
For a list of all online meetings available in Chattanooga please click here to be redirected to instructions.
What is AA
Alcoholics Anonymous is a fellowship of people who share their experience, strength and hope with each other that they may solve their common problem and help others to recover from alcoholism. – Copyright by The A.A. Grapevine, Inc.
Chattanooga Intergroup / Central Office
The Chattanooga Central Office is located at:
5611 Ringgold Road, Suite 130
Chattanooga, TN 37412
If you need/want help with an alcohol problem, please call or email us at:    Phone: 423-499-6003     or     chattcentraloffice@gmail.com. The Chattanooga Area Intergroup voting members consist of  representatives from Districts 7, 80, 81, 82, 83, and 84 in Area 64 as well as Area 16 District 15A, however, the Chattanooga Area Central Office serves a broad area in Southeastern Tennessee and nearby communities in Northwest Georgia and Northeast Alabama
Have something happening in your Group or District?
**** Please Note ****
The flyers that are posted on this site do not originate with the Chattanooga Area Central Office or Intergroup.  Material posted does not constitute or indicate, review, endorsement, affiliation, nor approval/opposition by the Chattanooga Area Intergroup/Central Office. 
**** Thank You ****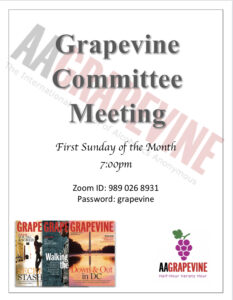 The 72nd General Service [Post] Conference Report will be available via Zoom on Saturday May 7th at 10AM Eastern and Sunday May 22nd at 3PM Eastern.  Get with your DCM for Zoom login information!  Don't miss all the information from your Delegate!
Be sure to send your Group/District announcements to: chattcentraloffice@gmail.com and gratitudetimes@hotmail.com.
For comments or additions to the website, please email: chattwebservant@gmail.com
Get in Touch
5611 Ringgold Road
Suite 130
USA